The Plan: What Can We do at Home?
Evidence-based ways to raise happy kids.
Minimum of 2 times per week.
No phones, no TV.
Talk to your kids. Listen to what they have to say. Be engaged and know what is going on in their lives.
Understand the dangers that they face, and take steps to help them avoid those things.
Talk through danger scenarios often. Dinnertime is a fantastic time for this.
Talk about decisions and consequences of actions.
Life satisfaction of 7 to 18-year-olds is significantly associated with family dinner.* That means that there is a positive relationship. As this VERY detailed **graph shows, frequency of family dinner is inversely associated with anxiety symptoms.
Increasing the number of family dinners you have leads to less anxiety.
Other benefits:
Perform better academically
Are less likely to engage in risky behaviors (drugs, alcohol, sexual activity)
Develop a positive relationship with food
Have better relationships with their parents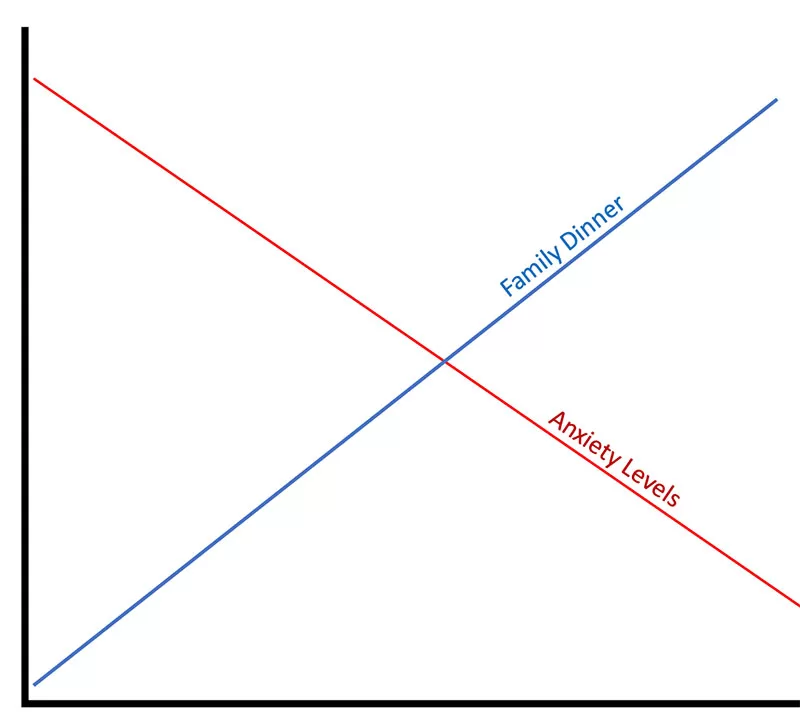 Remember, we suggest progress, not perfection!!!!!!
We know you are busy. Do what you can do.
*Karimi, G., Vard, B., Riyahi, R., Motlagh, M. E., Heshmat, R., & Kelishadi, R. (2020). Association between family dinner frequency and mental health in children and adolescents; the CASPIAN-V study. International Journal of Food Sciences & Nutrition, 71(5), 628–634.
** graph is only meant for emphasis, not accuracy, and is not to scale
#2 Encourage Healthy Eating
This is a two-fer with eating family dinners (#1 on the list)!
Eating diets high in fruits, vegetables, fiber, and healthy fats leads to better mood, less stress, lower risk of illness, and better cognitive function.* Eat a little less fast food and a little more from the garden.
As you already know, eating well leads to better physical health too. Kids are less likely to be overweight, which can lead to insulin insensitivity and type 2 diabetes, high blood pressure, heart disease, and many other issues as they get older.
On a side note, I never, ever make my kids finish their meals. If they're sated, they may be done. Encourage them to learn their body cues.
*Firth, J., Gangwisch, J. E., Borisini, A., Wootton, R. E., & Mayer, E. A. (2020). Food and mood: how do diet and nutrition affect mental wellbeing?.
BMJ (Clinical research ed.), 369, m2382. https://doi.org/10.1136/bmj.m2382
Dr. Condie has worked with children's neurological development for years. He emphasizes getting 8 hours of continuous sleep a night for brain development.
Why is sleep important?
affects our physical and mental functioning
ability to fight disease
develop immunity
metabolism
chronic disease risk
Not getting enough sleep has been associated with increased mental health problems, as well as chronic diseases.*
*Blackwelder A, Hoskins M, Huber L. (2021). Effect of Inadequate Sleep on Frequent Mental Distress. Preventing Chronic Disease 2DOI: http://dx.doi.org/10.5888/pcd18.200573
What's good for the body is often good for the mind. You've probably heard that not treating your body with nutrition and exercise can lead to chronic health issues in the future. It's probably also not surprising that having a chronic health problem, like type 2 diabetes, often increases anxiety and depression. More kids than ever are getting diagnosed with type 2 diabetes, which is usually preventable with diet and exercise.
Exercise:
Improves cognitive function
reduces symptoms of anxiety and depression
Improves cardiorespiratory fitness
Builds strong bones and muscles
Controls weight
Reduces the risk of heart disease, cancer, type 2 diabetes.
Improves sleep
Overall quality of life
As often as possible, get exercise outside. Spending time outside leads to:
Better breathing
Improved sleep
Reduced depression
Motivation to exercise
Mental energy
Immune health
Emotional wellness
Department of Health and Human Services. (2019). Physical activity guidelines for Americans 2 nd edition. US Department of Health and Human Services. health.gov/sites/default/files/2019-09/Physical_Activity_Guidelines_2nd_edition.pdf
Studies show that the more people volunteer, the happier they are.
Service allows us to focus on others and not ourself.
Here are some *statistics on service:
Compared with people who never volunteered, the odds of being "very happy" rose 7% among those who volunteer monthly and
12% for people who volunteer every two to four weeks.
Among weekly volunteers, 16% felt very happy—a rise in happiness comparable to having an income of $75,000–$100,000 versus $20,000
Now, 7, 12, and 16% might not seem like a lot, but when we combine all of these small percentages, a little here and a little there adds up to quite a high percentage.
Justserve.org
Maggie O'Mara Facebook and Instagram (local to Idaho)
Church groups
Boy and Girl Scouts
Care centers
* https://www.wcsu.edu/community-engagement/benefits-of-volunteering/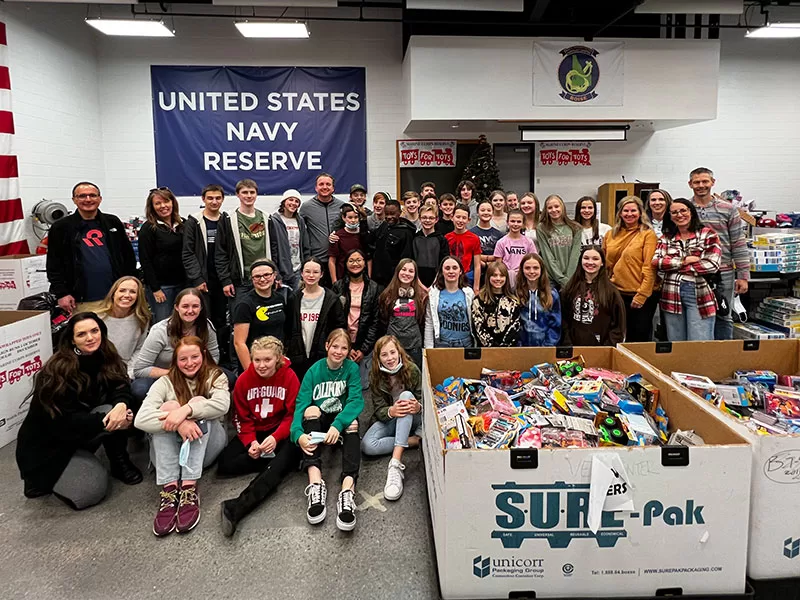 Dr. Condie suggests:
Limit stimulatory screen time (not school work) to 2 hours or less a day
Keep smart phones and devices out of their hands until at least 16 years old.
If a child is struggling with psychological pathology, commit to a one month fast from all non-educational electronics,
Helpful Hints:
Turn off notifications!
Turn in phones at night
Lower Stress
Improve Sleep Habits
Better Focus and Brain Function
Boost Physical Activity